Lou Cetrangelo's Spitfire
---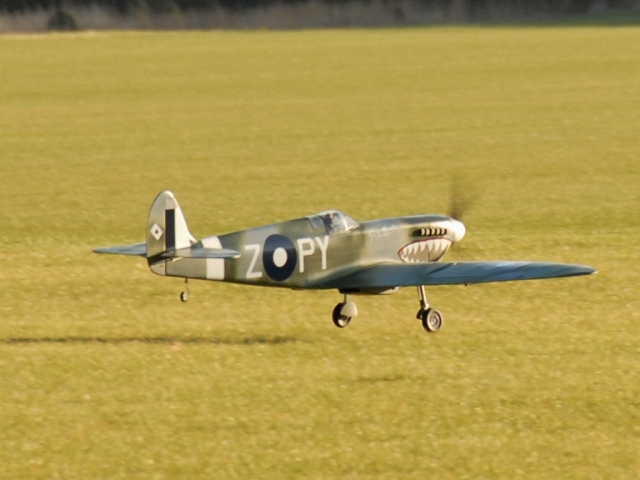 Lou Cetrangelo's Spitfre. As friend of Sal Calvagna, Sal made the arrangements to purchase the Meisterscale Spitfire Short Kit and plans for him. After about four and a half months it is finished and recently he had a chance to fly it with Sals help and encouragement. It flew great in spite of a crosswind. He wanted to take it easy on the DA-50 but he can see it will be a very fast plane. He hopes to see everyone at the Warbirds Over Delaware flyin.
Specs are:
Weight 20 lbs
Engine: DA-50
Modified Slimline Pits Muffler to fit in Cowl by shorting barrel.
Propeller: 3 blade Bolly carbon fiber 20" X 12".
Fuselage and tail are covered in 1 oz fiberglass cloth.
Wings are covered in natural Solortex.
Hinges: Robart Pin Hinges.
Added Split Flaps.
Fiberglass cowl using a one up foam mold.
Meisterscale Spinner, Cowl and exhaust pipes.
Robart Air Retracts.
Fiberglass strut covers, and lower radiators.
Wing Fillets from West systems 410 Microlight filler.
9 Servos are all HiTec Digital with a Futaba 8 Channel PCM receiver.
NiMh batterys by Nobs.
Paint is KlassKote Epoxy Paint.
Australian Grey Nurse Marking were blown up from a 1/32 scale decal sheet.