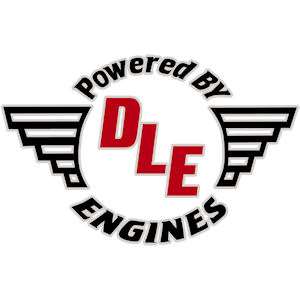 DLE-222 Inline Engine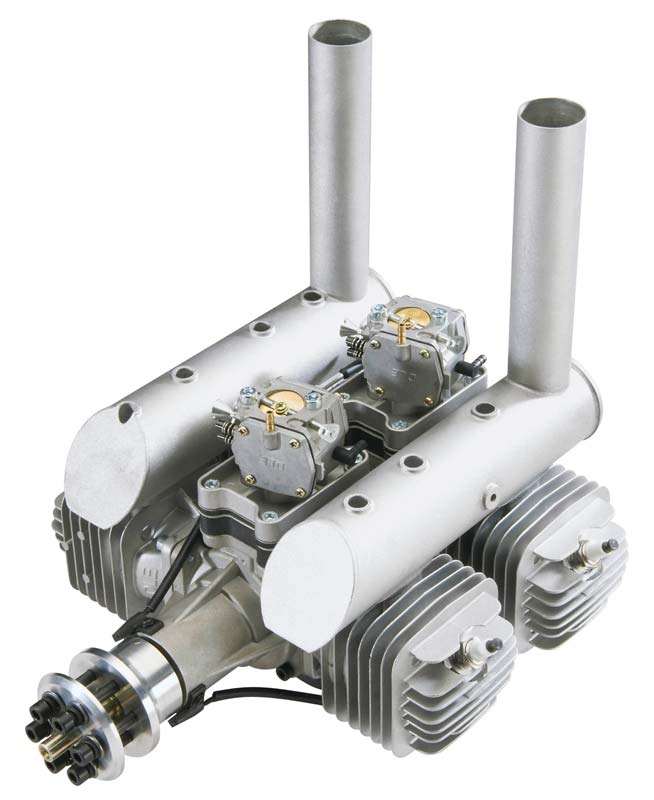 Features
Dual carburetors for maximum performance
Double V-type reed valve bottom induction
Six bolt prop hub
Fully automatic electronic ignition
Two year limited warranty through Hobby Services beginning at date of purchase
Includes
Engine, four spark plugs, standoffs, ignition, instruction manual two mufflers, prop hub and throttle arm extension

Specs:


Output Power: 21.5 HP at 7,500 RPM
RPM Range: 1,000 - 7,500
Idle Speed: 1000 RPM
Displacement: 13.6 cu in (222.5cc)
Bore: 1.77" (45mm)
Stroke: 1.38" (35mm)
Compression Ratio: 7.6:1
Engine Weight: 10.9lbs (174.6oz) (4950g)
Total Width Including Both Cylinder Heads: 10.1" (258mm) not including spark plugs
Distance between Horizontal Mounting Hole Centers: 3.2" (81mm)
Distance between Vertical Mounting Hole Centers: 3.6" (91mm)
Height of Entire Mounting Plate: 4.2" (107mm)
Width of Entire Mounting Plate: 3.8" (96mm)
Length from Mounting Plate to Front Bearing: 8.97" (228mm)
Length from Mounting Plate to Prop Hub: 10.1" (258mm)
Height from Crankcase to top of Carburetors: 6.2" (157mm)
Distance between Muffler Mounting Hole Centers: 1.6" (40.5mm)
Height from Crankcase to end of Muffler Pipe Outlet: 11.2" (286mm)
Gasoline/Oil Mixture: 30:1
Gasoline Octane Rating:87
Recommended Propellers: 32x10, 32x12, 34x10


Requires:
87 octane gasoline
2-cycle oil, mix ratio for this engine is 30 parts gas to one part oil and must be followed exactly for warranty consideration and optimum performance
Ignition Battery: Two 4.8 - 6V NiCd or NiMH batteries OR 7.4V LiPo Packs or 6.6V LiFe packs (LiPo & LiFe require voltage regulator) (separate receiver style pack can be used)
Propeller


Price: $1650.00 US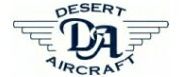 DA-200 Four Cylinder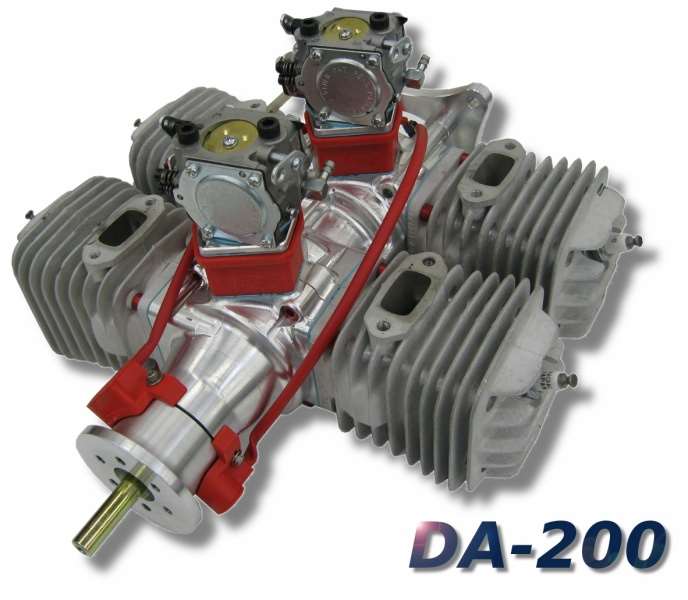 Features
Four petal reed valve, bottom induction.
Desert Aircraft, auto advance, electronic ignition.
Walbro Carburator
Exclusive Desert Aircraft designed cylinders, pistons, and crankshaft.
CNC milled, 7075 aluminum alloy crankcase.
Extremely low vibration.
Long rod to stroke ratio.
Aerobatic power curve.
DA engines are designed using the latest tools and techniques, including 3D CAD and Stereo Lithography.
Specs:

Displacement: 12.20 ci (200 cc)
Output: 19 hp
Weight: 10.95 lbs (4.95 kilos)
Bore: 1.6771 in (42.6 mm)
Stroke: 1.3779 in (35 mm)
Length: 9.625 in (244 mm)
RPM Range: 900 - 6,700
RPM Max: 8,500
Fuel Consumption: 4.5 oz/min @ 6,000 RPM
Warranty: Two years


Price: $2795.00

DA-200 Compact Mufflers (Set of 4):
Price: $310.00 US

Recommended Props
2-Blades
32 x 10, 32 x 11, 32 x 12
3-Blades
28.5 x 12, 29 x 12