G-38 Engine
For use with the Meister Scale P-51, Spitfire and 84-inch ME-109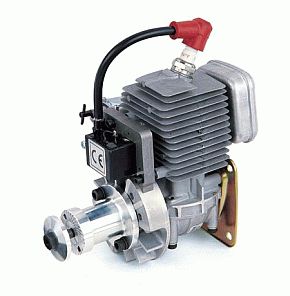 The G-38 is the ideal gas engine for models such as the Midwest Extra 300S, Cap 232 and Super Stinker, as well as the Lanier Cap 232 and Stinger 120, where sport performance is desired. It is also a popular choice for many scale projects. It will turn an 18 x 10 prop at 7100 to 7400 rpm.
Specs:
Type: 2-Stroke
Displacement: 2.30 cu in (38.0 cc)
Bore: 1.50 in (38.0 mm)
Stroke: 1.30 in (33.0 mm)
Cylinders: Single - Chrome Plated
Total Weight: 71 oz
Engine (Only) Weight: 67 oz
Muffler Weight: 4 oz
Crankshaft Threads: M8 x 1.25mm
Benchmark Prop: 18 x 10 APC @ 7,300
Prop Range: 16 x 8 - 18 x 6
RPM Range: 2,100 - 9,500
Fuel: Gas/Oil Mix
Mounting Dimensions: 108 x 135 x 194 mm
Muffler Type: Can
Cylinder Type: Ring
Carb Type: Walbro WT-338
Crank Type: Ball Bearing
List: $519.99 Map $324.99

G-45 Engine
For use with the Meister Scale P-51, Spitfire and 84-inch ME-109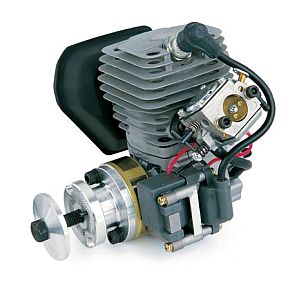 Weighing in at roughly the same weight as the G-38, the G-45 is great for many of the same models and is perfect for those who crave "unlimited" performance out of those types of airplanes. It will turn a 20 x 10 prop at approximately 7200 rpm.
Specs
Type: 2-stroke
Displacement: 2.80 cu in (45.0 cc)
Bore: 1.69 in (43.0 mm)
Stroke: 1.22 in (31.0 mm)
Cylinders: Single - Chrome Plated
Total Weight: 79 oz
Engine (Only) Weight: 74 oz.
Muffler Weight: 5 oz.
Crankshaft Threads: M10x1.25
Benchmark Prop: 20 x 10 APC @ 7,200
Prop Range: 18 x 8 - 20 x 7
RPM Range: 2,000 - 9,000
Fuel: Gas/Oil mix
Mounting Dimensions: 161 x 191 x 162 mm
Muffler Type: Can
Cylinder Type: Ring
Carb Type: Walbro HDA-48 D
Crank Type: Ball Bearing
List $679.99 Map $424.99